Big Weekend 2014
The club held an Open Day – full day taster session today as part of Archery GBs Big Weekend, repeating what we have done for the last couple of years.
Many thanks to everyone who turned up to help make this a success. We had 59 people turn up to try their hand at archery, and we have consequently filled up the July lessons now. Indeed, we have a good size waiting list, so we'll be hoping to run more lessons during the week in July!
As before we ran a fundraising dartboard (£1 fo 3 arrows), with all money going to charity, and the highest score winning a free set of lessons. This was won by Mr T Davies, with a score of 52.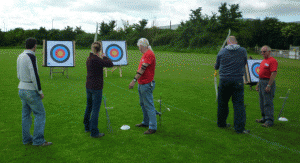 "Darts" scores
| | |
| --- | --- |
| Name | Score |
| T Davies | 52 |
| Ollie Kirby | 50 |
| Phil Bolt | 42 |
| R Jefferson | 40 |
| L Krisztian | 39 |
| J Day | 31 |
| Robert Palmer | 27 |
| Liz Jefferson | 27 |
| Adam Witchell | 20 |
| Jules Irlam | 8 |
| Jack Whitehead | 4 |
| Andy Durham | 0 |
Related Images: