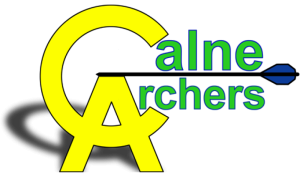 Calne Archers is a target archery club, based at Beversbrook Sports Facility in Calne. The club was set up at the start of 2011 to allow the local community to participate in target archery, using mainly recurve bows, along with longbows and now compound bows.
Click here to see us shooting at our range
2019 Open Day – Free Taster Sessions

We will be holding a free taster session, open to all, on Sunday 9th June, at 10am (until 12.30) at our range at Beversbrook. Please come along and try your hand at archery….
New Beginner Lessons for July 2021 NOW FULLY BOOKED
We have now set the dates for our next training course – this will be running through July 2021. If you wish to reserve a space, please email us.
Due to the current Coronavirus situation, we have cancelled our scheduled training course. At this point, we do not have any planned for the remainder of the year, though we will review this as the year progresses.
See here for further details.
Now welcoming new members
Calne Archers are now taking on both adult and junior members, subject to experience. See here for membership details.
HOW TO FIND US
Click
here